ALL JOINERY AND BUILDING WORKS CARRIED OUT
EXPERT WORKMANSHIP AT AFFORDABLE PRICES
We are GCA Joinery. We specialise in all aspects of joinery and building. Based in Renfrewshire, we work across the area to bring our customers great quality products 
With over 15-years' experience in the industry, you can trust us to create beautiful bespoke joinery for your domestic and commercial properties.
We offer a full comprehensive service for all our work to create a hassle-free experience for our clients. This includes supplying all trades from kitchens to extensions!
 If you need a talented team of joiners to help with a project in your property, get in contact with our team today for a free, no-obligation quote.
Expand your living space with our professional extension service.
Whether you need a larger kitchen, an additional bedroom, or a spacious home office, our skilled team is here to bring your vision to reality.
We understand that extending your property is a significant investment, which is why we provide a comprehensive service from start to finish. Our experts will assist you with the design, planning permission, and construction, ensuring a smooth and hassle-free process.
With meticulous attention to detail, we seamlessly integrate the extension into your existing property, creating a harmonious flow and maximising  functionality.
We pride ourselves on delivering high-quality workmanship and using premium materials to ensure longevity and durability. Experience the joy of a spacious and tailored living environment by choosing our extension service.
Contact us today to discuss your requirements and begin the journey of enhancing your home.
Loft & Garage Conversions
Transform your unused loft and garage spaces into valuable living areas with our professional loft and garage conversion service.
Whether you're in need of an extra bedroom, a home office, or a playroom for the kids, our experienced team is ready to bring your vision to life. We understand the unique challenges and requirements of converting lofts and garages, including maximizing space, ensuring proper insulation, and integrating necessary utilities. With our expertise, we'll guide you through the entire process, from design and planning to construction and finishing touches.
Our commitment to quality craftsmanship and attention to detail ensures that your loft or garage conversion will be completed to the highest standards, providing you with functional and beautiful new spaces that add value to your home. Contact us today to discuss your loft or garage conversion project and turn your underutilised spaces into something extraordinary.
Revitalise your home with our top-notch bathroom and kitchen fitting service.
Whether you're looking to upgrade your kitchen or create a luxurious bathroom retreat, our skilled professionals are here to bring your vision to fruition.
We offer a comprehensive range of services, from plumbing and electrical work to tiling and cabinetry installation. With an acute attention to detail and a commitment to quality, we ensure that every aspect of your bathroom or kitchen is expertly fitted and finished to perfection.
By choosing our bathroom and kitchen fitting service, you can transform your space into a stylish and functional area that perfectly suits your lifestyle.
Get in touch with us today to discuss your project and let us help you create the kitchen or bathroom of your dreams.
Elevate your property with our comprehensive renovations service.
Whether you're looking to revamp a single room or undertake a full-scale transformation, our experienced team is equipped to handle all aspects of your project. From concept to completion, we collaborate closely with you to understand your vision and deliver outstanding results.
Our skilled craftsmen specialise in various trades, including carpentry, painting, electrical work, and plumbing, ensuring seamless coordination and exceptional workmanship. We strive for excellence in every detail, from sourcing high-quality materials to incorporating innovative design solutions. With our property renovations service, you can breathe new life into your space, increase its value, and create a home that reflects your unique style and preferences.
Contact us today to discuss your renovation needs and embark on a journey of transformation.
Unlock the true potential of your property with our professional structural alterations service.
Whether you dream of open-plan living, require additional space, or want to reconfigure the layout, our experienced team is equipped to handle your project. We specialise in structural alterations, ranging from removing load-bearing walls to modifying foundations and extending existing structures.
Our builders possess the expertise and knowledge of building regulations necessary to ensure a safe and seamless process. With meticulous attention to detail, we prioritise quality workmanship and customer satisfaction.
We navigate the complexities of obtaining necessary approvals and adhere to all health and safety regulations. Trust us to deliver outstanding results that exceed your expectations. Experience the transformative power of our structural alterations service and create a space that perfectly suits your lifestyle.
Contact us today to discuss your project and embark on a journey of enhancing your property.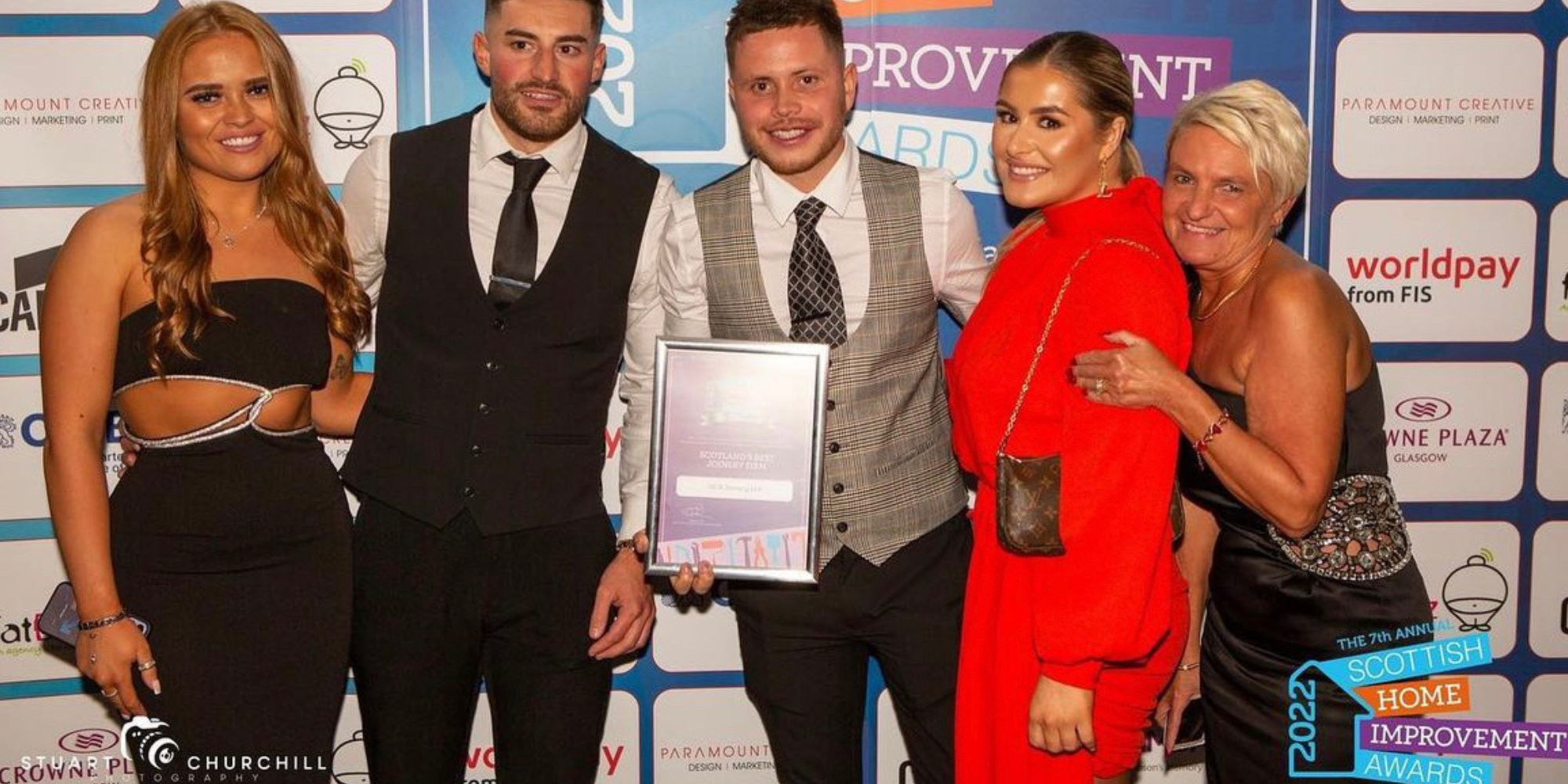 Scottish Home Improvement Award 2022
Scotland's highly recommended joinery firm.
Over the moon to achieve this award, we have came so far in such a small space of time. Times like these make all the hard days worthwhile.
I would like to thank all of the boys at GCA Joinery for their hard work day in day out to get us to this stage, all of our subcontractors who make the jobs run smoothly! Lastly all of our customers, friends and family who took the time to vote for us to get into the final.
Well done to all joinery contractors who achieved an award in this category! We will be back next year for sure.
Scottish Home Improvement awards
"Recently had a garage conversion done by GCA joinery. We are delighted with the result. Greg was extremely professional at all times and his team were very punctual, polite, hard-working, and tidy. Greg arranged all the trades which made life easier for us, and communicated well with us regarding who was coming and when. Completed on time and on budget. Would be happy to have Greg and team back for any other work we needed doing, and have already recommended them to others. Thanks again."
Margaret Lauder
20.06.2022
I had a wall knocked down between the kitchen and dining room. A windpost required to be fitted, the door into the kitchen widened and a new kitchen fitted. Greg was very quick at answering emails and any queries I had. He was 100% reliable. He and his team turned up at 8am every day and worked a full day. He did an excellent job so I didn't have to bring him back to fix anything. I would definitely recommend him to friends and family. Thanks Greg and the team. We are very pleased with the work done.
"We recently had Greg and his team working out out kitchen dinning renovation. From start to finish he managed the full project taking all the stress off myself and partner. They took down a structural wall, blocked up two doors, redone the electrics and installed our full kitchen. On top of all this amazing service his price was the most competitive of all 4 builders we priced. GCA joinery are the true meaning quality service at affordable prices. Thank you"


Get in touch today to get your free quote and build your dream home